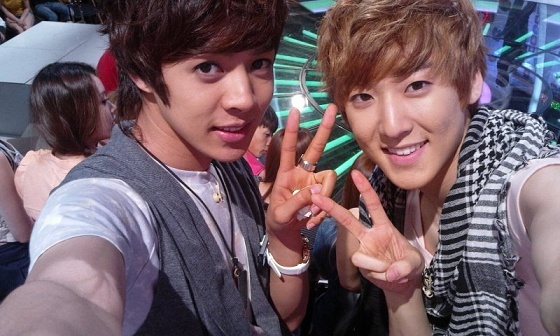 U-KISS's members, Alexander and Kevin are selected as the new MCs for Arirang TV global music show 'The M-Wave'.
U-KISS's agency, NH Media, told Star News on 2nd August that "Alexander and Kevin will be appearing in Arirang TV's global music show 'The M-Wave' as the MCs."
Arirang TV's representative revealed that "Alexander and Kevin speak Korean and English well as they used to live abroad. The reason for appointing them as the new MCs is because they are very popular since they have been receiving global idol recognitions both locally and overseas as well, and this will help us to broaden our scope of viewers."
'The M-Wave' can be viewed not only in Korea, but also in other 188 countries as they are being aired through Arirang TV with English as the medium of communication. And to live up their name as the International Idol, U-KISS's Alexander and Kevin, who are fluent in English have been selected as the new MCs.
'The M-Wave' is a program that let the Asia music lovers to communicate with each other through the new M-mail, Twitter, Facebook, Youtube etc. Foreign fans can also join in as the audiences for this music program.
Meanwhile, U-KISS is expected to release their new album this August.
Credits: mtstarnews (Source) + Xander's Twitter (Pic) + jaymie501@ROCKETBOXX.NET (Eng trans)

=========================================================================
Apo thn mia xairomai pou exoun polla schedules alla apo thn allh dn 9elw na mou e3antlh9oun TT.TT