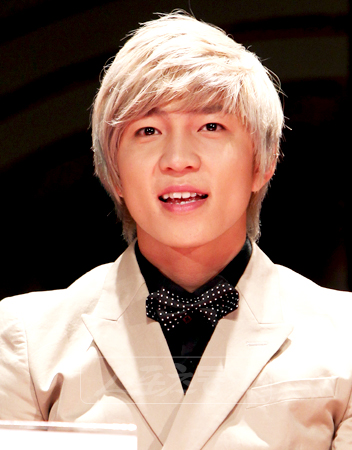 Lately, 'U-Kiss' member SooHyun has been practicing hard for musical 'Chorus Line', in which he will be performing in August at the Seoul SamSung Coex Center. We were curious about the thoughts inside of an idol star's head who is attempting a musical for the first time. We met SooHyun at the Coex Center practice room.
Q. Why did you choose to do a musical?

U-Kiss is important, but my last dream was to stand on a musical stage. I was always thinking about it while promoting, and then a chance for an audition came by.
Q. Idol stars have to take auditions too?

Of course. The actors for 'Chorus Line' have all passed through really difficult auditions. I was no exception; I finished a tough audition too.
Q. What did you do for your audition?

After they showed us the choreography they do on stage, they immediately asked me to do it. Maybe I was lucky, but I picked it up quickly and followed it. I also sang. But more than anything, I think that the reaction to my personal introduction at the end was good. I said, "To become a member of U-Kiss, I had a hard time during my trainee days but I worked hard. It's an honor to have come this far, and if I get chosen, then I will do my best", and the judges looked like they were touched. The producer said before he went back to New York that he 'thought that he was really seeing Mark (the role that SooHyun is playing). I felt like you have what it takes to stand on the stage, so I casted you". I'm really thankful. I will work hard and not let his expectations fall short.
Q. Why do you think more and more idols are entering into musicals?

The trend nowadays is to be a multi-entertainer. MC, acting, solo activities are common, but I think that the road for musicals is also opening up. Everyone wants to do more, learn more, and get to the top. I think that we feel that we will be accepted for our talents more through musicals and receive more love.
Q. The company must not like it. Their time and money is being stolen.
You're right. And to add to that, U-Kiss is releasing a single album soon. At first, the company representative didn't like that I was doing a musical. So I convinced him with my eye glint (laugh). Now, he's saying, 'Since you're trying this, work really hard'. The manager hyungs also help, so I can comfortably focus on just practicing.
Q. Will musical experience help with your activities as a singer?

U-Kiss has seven members, but 'Chorus Line' has thirty-three. The scale is different even when we dance together to a single song. Through this experience with a musical, I want to give help to my U-Kiss dongsengs.
Q. What are your thoughts on idols entering musicals?
Personally, I hope that the link between the musical industry and the entertainment industry grows. Just as entertainers attempt musicals, I want musical actors to enter the entertainment industry. When I look around me, theres a lot of talk about how 'idols seem to be crossing over into the musical industry a bit too much'. There are criticisms that people only gather at performances that idols are starring in. It's sad. I feel that way too.
Source: Nate News
Translator: ilovepocky @ Rocketboxx