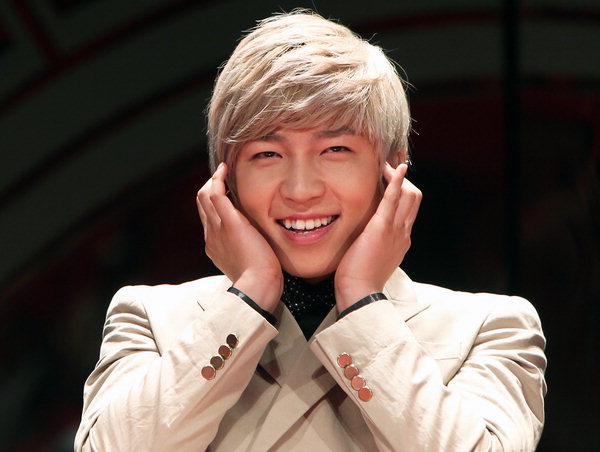 Yet another idol musical actor has been born. SooHyun, a member of the idol group U-Kiss, is planning on trying out his first musical stage with 'Chorus Line'.
First appearing on Broadway in 1975, 'Chorus Line' recorded the longest run ever and received nine awards in various categories at the Tony Awards. This will be the first time that 'Chorus Line' is being performed in Korea after getting a licensed contract.
At the SamSungDong Coex Center, a press conference was held and SooHyun was there. "After seeing Paran's Ryan hyung in a musical, my dream also began. Just thinking about standing on a musical stage is overwhelming for me."
For the first Korean performance, auditions for thirty cast members were held. Over one thousand people tried out, going all the way to the fourth round. SooHyun, too, passed through this competitive audition to take the lead role of 'Chorus Line'.
"At the audition, I danced, sang, and acted until my clothes were soaked with sweat. I've learned acting, but it was my first time acting for a musical so I was really nervous. I worked really hard and did it just like I practiced. I think they saw me cutely. (laugh)"
'Chorus Line' is a story of seventeen dancers who want to make it to the final round of eight. There is no single lead in the group of seventeen cast members who make up 'Chorus Line', because each has an important characteristic. The role SooHyun was cast in, that of Mark, is of an innocent and bright boy who is experiencing an audition stage for the first time.
"I entered U-Kiss after a long and difficult training period, so I felt that I was really similar to Mark, who practiced hard to go on the musical stage. That's a reason why I feel closer to the character. I want to do my best for the role of Mark."
The producer of the Broadway 'Chorus Line', who participated in judging for the Korean auditions, commented, "When I first saw SooHyun, I knew he was Mark. The way he was doing his first musical audition was the way Mark would have done it", showing his satisfaction.
'Chorus Line' requires a lot of practice, and practice runs every day from 10AM to 10PM. SooHyun stated while smiling, "The most difficult thing is to match the slightest of movements, like where my gaze is set while I'm reaching out a hand", "I have confidence that our cast members work well together. Without teamwork, it would not be 'Chorus Line'."
'Chorus Line' will be performed until August 22nd at Coex Center.
Source: City News
Translator: ilovepocky @ Rocketboxx