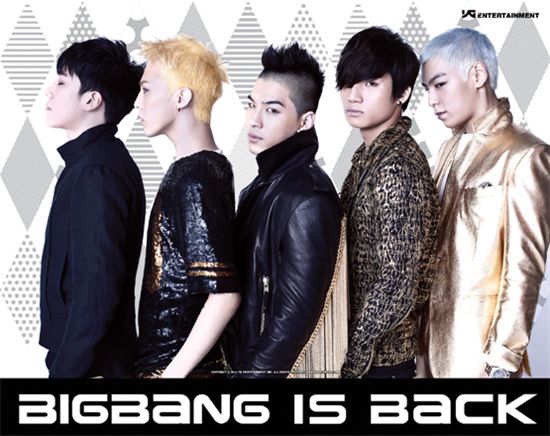 Five-member male band Big Bang has returned with a bang, securing the No.1 spot on both the singles and album charts of music cable channel Mnet during the final week of February.
Big Bang's "TONIGHT," the title track from their fourth mini-album released on February 24, secured the top spot on the singles chart.
It pushed back previous week's winner "The Story Only I Didn't Know" from female songstress IU's EP album to second place.
Third on the chart was "HANDS UP," also from Big Bang's new album, that incorporates hip-hop and electronica music.
Also first on the albums chart was Big Bang's mini-album, featuring a total of six tracks including house, dance, hip hop, electronic and other various genres of music.
The album, which is the first album released by the group in two years, not only listed five songs in the top 10 of Mnet's singles chart but also entered top 10 of Apples' iTunes records chart last week.
IU's third mini-plus album "Real +" composed of three songs "The Story.." "Cruel Fairy Tale," and "The Story…" came next on the chart, after stepping down a step due to Big Bang's high-profile return.
Accordingly, the original soundtrack to KBS' teenage idol drama "Dream High" was also pushed back a notch from the previous week to land on third place.
The album features the main theme song to the drama also titled "Dream High," "My Valentine (feat. Park Jin-young)" by Taecyeon (2PM), "Someday" by IU, "Maybe" by Sun (Wonder Girls) and "Winter Child" by Suzy (miss A).
source : asiae