B2ST's Yoseob is too short to pinch 2AM Jinwoon's cheeks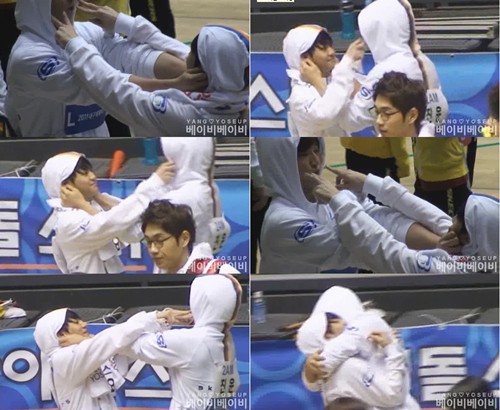 Fans are swooning over an adorable fancam of
2AM
's
Jinwoon
and
B2ST
's
Yoseob
playing around together during the recording for
MBC
's "
Idol Star Athletics & Swimming Championships
".
On January 25th, the 30-second video was uploaded to various
different community sites under the name, "Jung Jinwoon & Yang
Yoseob's crazy mutiny". Fans were able to see the two idols tussling
with each other in an attempt to pinch the other's cheeks.
Despite Yoseob being a
hyung
to Jinwoon – Yoseob was born in
1990, and Jinwoon was born in 1991 – the B2ST member was unable to
reach up and pinch the cheeks of 2AM's
maknae.
Yoseob stands at 170cm tall, while Jinwoon's height is recorded at 185cm.
So how did they decide to overcome the height disparity?
The two made up for the 15 cm difference by warmly embracing each other instead.
Netizens commented, "
This is so adorable!," "Jinwoon is the dongseng, but hyung Yoseob looks so much cuter,"
and
"They look like couples playing.
"
Check it out below:
Source: Star News via
Nate
Credits:allkpop.com
_________________