My Princess~B2ST's Kikwang transforms into…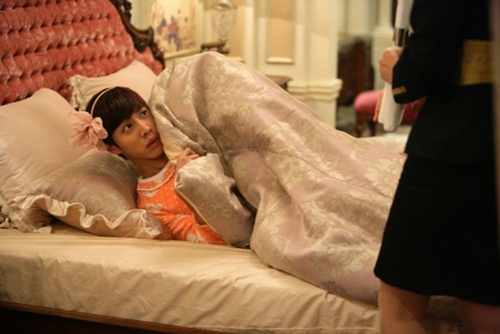 B2ST's Lee Kikwang will be transforming into Kim Tae Hee's cute princess character on the "My Princess" episode scheduled for broadcast on January 19th.
Kikwang plays the substitute of Kim Tae Hee, who finally makes her way into the palace in the fifth episode, by wearing her pink pajamas.
Kim Tae Hee escapes the palace upon hearing Song Seung Hun declare that he will be marrying her in order to prevent the reconstruction of the imperial family. She unfortunately gets into a minor car accident that renders her unable to return to the palace, leaving her to ask the palace chef, Kikwang, to play her role until she returns.
Kikwang had previously declared himself to be Kim Tae Hee's strong supporter, and acting true to the part, he plays her role, complete with a flower accessory and her pajamas.
All of the staff members are revealed to be adoring him on set due to his work ethic and friendly personality. Cube Entertainment stated, "His cute and positive personality has earned him the personality of 'aegyo on set.' It's definitely a pressuring task to be working alongside such top stars, but he's adjusting naturally thanks to his role. Please look forward to the various sides Kikwang will be expressing in the future."
Source: Newsen via Nate
Credits:allkpop.com
_________________