Jo Kwon was just kidding about dating Ga-in in real life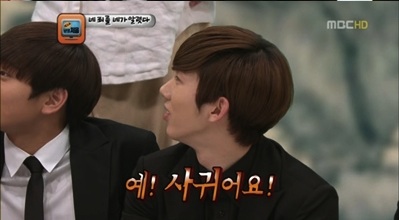 A few days ago, 2AM's Jo Kwon elated the "We Got Married" fandom with his confession about dating Brown Eyed Girls' Ga-In. As it turns out, he really was just goofing off - MBC's "First Time in My Life" decided to use a little snippet of his confession in their preview to draw in more viewers.
On the episode that aired on January 12th, the guests (including 2AM) started to discuss Jo Kwon and Ga-In's relationship.
In a corner where they had to reveal each other's sins/wrong-doings, Jinwoon pointed out, "Jo Kwon and Ga-In are a married couple on "We Got Married", but are twin siblings on "All My Love"."
MC Jung Hyun Don said, "I heard that they are dating in real life," to which Jo Kwon replied, "Yeah, we're dating."
The 2AM members played along with it and surprised the two MCs. Byun Ki Soo bursted out, "Writers, why don't you get ready? Why don't we have any kind of information? Are you really dating? Let's get rid of this corner." Jo Kwon then said, "Ay, we're not dating."
MC Gil said, "What is stopping you guys from dating? Does she have a flaw?" Jo Kwon answered, "We really have grown close together so we feel like siblings. There is no flaw. I have a lot to do with 2AM and my wife is very busy as well. I don't know…"

Source via Newsen
Credits:allkpop.com
_________________