DaeGuk Nam Ah/대국남아
aka D-NA, THE BOSS, THE BOYS OF SUPER SPACE, 大国男儿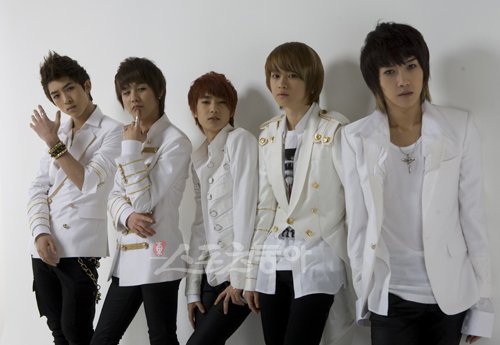 The original
XING
, formed in 2006, consisted of 4 members:
Kim Kibum
(Marumir, brother of SS501's Kim Hyungjoon),
Woo Sunghyun
(Kevin),
Kim Youngkyung
(Yume), and
Choi Sungsoo
(Cheon Hyesung). Their first single was released December 14, 2006 and they were dubbed the teenage SG Wannabe.
One thing XING is known for is their changing or rotational members
. On July 14, 2007, Kibum announced that he was leaving group to pursue a better future for himself. Shortly after, two APM members were
added
to XING:
Yong Junhyung
(Poppin' Dragon) and
Nam Jinhyun
(Zen).
On September 6, 2007, Sungsoo left the group but with no statement or announcement from him or Xing Entertainment. He was immediately replaced by
Woo Hyunmin (Husky)
, a member of XE's project group
Singing in the Rain
. On January 12, 2008, Youngkyung decided to leave the group, making a diary announcement to fans rather than an official statement. Only one day later, Junhyung did the same.
Kevin, Hyunmin and Jinhyun
, along with the three remaining Singing in the Rain (
Kim Jisang
(Yoon), Lee Suhoon (White/
Mika
), and
Shin Gwangchul
(Gun)), and a new special dance member Jeon Jihwan (Kiparang/
Jay
) formed the new makeup of the 7-member group Xing.
On April 4th 2008, Kevin
(the only original XING member still in the group) announced that he had
left the group
to pursue a new career. He was sued by Xing Entertainment for violating his contract, which stated he could not join another company until 10 years after leaving XE. Kevin won the lawsuit.
Shortly after,
two recent trainees were added to the group
: Park Hyunchul (Rising/
Karam
) and Lee
Injoon
(Soul). In early 2009, Jinhyun left the group to study abroad in Cambodia, but is still signed under XE.
-> Former members Kibum and Kevin debuted with NH Media's group U-Kiss on August 15, 2008.
-> Junhyung debuted with CUBE Ent.'s group BEAST/B2ST on October 16th 2009.
-> Gwangchul is supposedly signed under a new company with Youngkyung, but it is unknown which company this is.
-> Jisang's whereabouts are for the most part unknown.
On January 28th 2010, Daeguk Nam Ah
, a group under Open World Entertainment (made up of Suhoon(Mika), Hyunchul(Karam), Hyunmin, Injoon and Jihwan(Jay))
was officially announced
. They made their official debut with their single 'Admiring Boy' on March 4th on Mnet Countdown.
Only a few months after their debut, D-NA's fancafe already has more than
40,000 members
. The boys have already had success overseas in
China, Thailand, and Japan
, and
they are scheduled to return to Japan in the future with help from Digital Adventure
, a Japanese music company.
On May 17th, D-NA made their comeback performance on KBS2 Music Bank with 'Biteul Biteul'~
Credits:
enchantedna.com