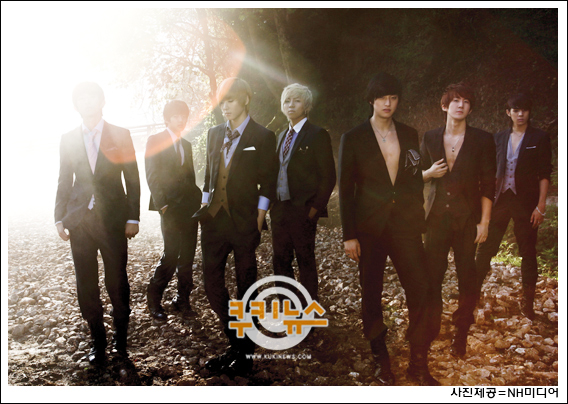 The 7 members group U-KISS has started to heat up the online and offline chart since the end of 2009 by releasing 'Man Man Ha Ni', and continuing with the release of 'Bingeul Bingeul', 'Mworago' and 'Shut Up!!', which emerged them as the scary rookie. In this new year, they are more determined to show their even more masculine image in front of their fans.
U-KISS will approach this year by running forward even further, because to U-KISS, 2011 is a 'challenging year' for them. We have met up with U-KISS on this New Year to talk about their desire to strengthen up their charismatic stage presence and performances.
Soohyun "Musical. Wants To Appear In Sitcom"
"I wish (for us) to get the #1 spot in music programs. We really have to do better this year. I have learned how to stand on the stage confidently and calmly. Right now, we are in the middle of recording for the new album. I think that we have been given a lot of good songs. Please look forward to it."
"I did challenge (to do) musical last year, but I had to stop half way because of unfortunate situation. It was a short time (practicing) but I was able to grab the feeling of being in musical. Given a chance, I want to be stand on musical stage once again. Since I'm a bit comical (body and character), I think that I will do well in sitcom too. I will do my best if you call and ask me to do it (sitcom)."
"My personal wish for the new year is for my family to be healthy. My (late) father had an interior business back at Namyang, Gyeonggi Province. I hope that it will be operating well without unfortunate incident. I want to be in love too since I'm going to turn 23 this year (laughs). As a singer, it will be good if I can improve my singing skills. Recently, I was really nervous because there are many people who can sing well."
Kiseop "Will I Go Well With Goo Junpyo's Character?"
"I would be happy if U-KISS gets #1 in music programs (smile). 2011 will be the year where U-KISS is running hard. It will be good if each member is given the opportunity to show his talent. I want to do many CF too (laughs)."
"I'm beginning to have interest in acting ever since involving in the recording of MBC Every1 Sitcom 'Real School' that will be broadcasted for the first time on this coming 10th. But, acting is really hard. After seeing it myself, it's like the differences between heaven and earth. Given the opportunity, I want to play a wealthy young man character (laughs). Like Goo Junpyo character in 'Boys Over Flowers'. I want to play a cool role."
Alexander "It Will Be Good If I Can Grow Taller"
"I don't think I can wish for more if U-KISS were able to achieve #1, even just once. It's a pity that we couldn't get the #1 spot. I want to be at #1. I will try to do better."
"Personally, I would like to grow taller (laughs). I'm not short but everyone else is taller. I want to shoot a movie with Andy Lau in Hong Kong too (laughs). I'm trying to improve my Korean language but it's harder than what I think. I still couldn't deliver my speech well in broadcasting. I'm going to study Korean hard."
Kibum "If The Character Business Becomes A Big Hit..."
"The most important thing is that U-KISS can do well. Personally, I hope that everything can go well. Me and Hyungjun hyung (SS501) have ventured into a character business (HnB). (Showing a cute bear 'Piro Piro' neck pillow) What do you think about this? Pretty, right? This is our company's product. It comes with the quality assurance tag too (laughs). I want to build up my body too, but it's hard because of our erratic schedules."
Dongho "I Want To Play With Friends Often In School"
"I want to be able to play with friends often in school. I heard about it a lot too, but I couldn't do that on regular basis due to my schedules. It would be good if I can look manlier too. Since I'll be getting 1 year older, you'll be looking at me more maturely right? (laughs)."
Eli "I Want To Play A Cool Character Like Wonbin Hyung"
"It would be good if U-KISS can achieve the #1 spot in music programs. All that matters is being healthy. I'm currently shooting for sitcom 'Real School', which will have its first broadcast on this coming 10th. Since I can act, I want to challenge a cool character like Wonbin hyung's in movie '아저씨 Ahjusshi'. And I want to enter the acting industry in China too."
Credits: Kuki News (Source) + Ran@ROCKETBOXX.NET (link) + jaymie501@ROCKETBOXX.NET (Translation) + Angel_In (Translation) + micsummer@ROCKETBOXX.NET