Performances from the 2010 'KBS Music Festival'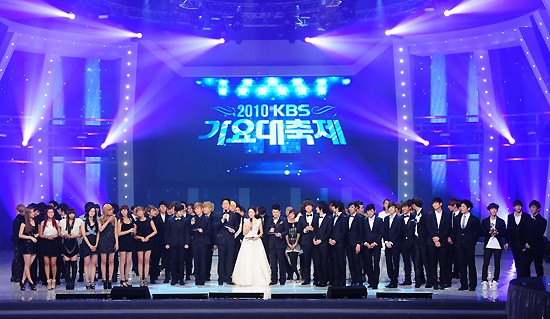 In celebration of 2010 coming to an end, the biggest stars of the music industry joined together for the 2010 "
KBS Music Festival
" held at the KBS Hall in Yeouido.
Held on December 30th under the theme of '
Harmony
,' the ceremony was divided into two parts and featured 170 minutes of special stages of the most-loved artists of the year.
The grand opening for the last festival of 2010 joined all of the artists on one stage to sing "
Last Festival
,"
followed by a variety of performances such as a joint stage between
seniors and juniors, a combination of hip hop and folk, and girl group
collaborations, all fit to the festival's harmonious theme.
The 2010
Popular Song of the Year
, which is determined through digital sales, album sales, broadcast appearances, and text messaging votes, was awarded to "
Oh!
" by
SNSD
! Congratulations!
Changmin&Yoseob&Jonghyun&Joonsu - It's My LifeBohemian Rhapsody - Changmin&Joonsu&Jonghyun&Yoseob&Jungmo


Credits:allkpop.com
_________________