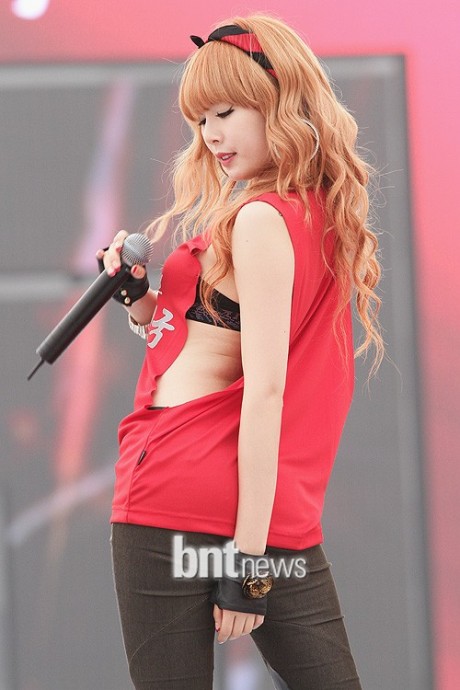 4minute's HyunA has become a hot issue regarding her outfit, with photos of her taken at a recent World Cup open concert in Seoul making its' way online.
The 4minute girls had attended a recent street cheering concert in order to show their support for Korea by performing their recent hit songs on the 17th before the Korea Republic vs Argentina game.
Some fans who attended the concert later commented about her clothing attire online, by saying that she was showing excessive amounts of skin.
HyunA quickly defended herself by taking part in an interview held at the MBC Dream Center where she expressed the following,
"Singers should be able to choose the costumes they want to wear while performing. Fashion is popular all around the world, but in Korea, fashion is more strict due to the conservative culture. Many things I wear are somehow tied into a controversy, and that's very disappointing. I just want to show my true self on stage, and tying in my costume with the performance."
credits:
allkpop.com
Netizens say:
• "I cannot accept the explanation that it is okay since she is wearing safety shorts underneath. The dress is just too short"
• "The coordi should really work on it. What will the parents think, having brought up their daughter beautifully to be wearing this on the stage?"
• "It is not right to have such young singers reveal so much"
• "This young lady is pretty. But this is too over-doing it"
• "But HyunA's dancing style has been refreshing. The problem is just the dress. She should take note of it when she is dancing."
• "She looks hot in the photos"
• "They should do it to appropriate extent"
• "Gosh, she is only in high school 2nd year?"
Meanwhile, Cube Ent representative said, "HyunA does wear safety pants underneath her dress. But we will work hard on the performing outfits in the future since fans have raised the concerns."
Sources:
sookyeong, itaeminee(youtube video)
proswpiki apopsi:
Exei tosa xronia mprosta tis gia na einai sexy kai fierce opote as sumazeutei ligo. oxi tpt allo, gia na mn ts tin bainoun kiolas. emena m'aresoun ta rouxa ts :P