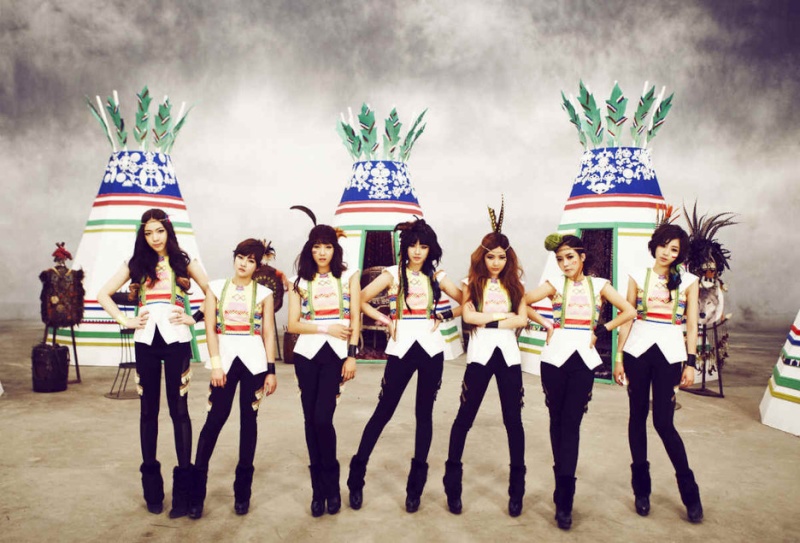 The members of T-ara participated in an 'XO Quiz' game with reporters from Sports Chosun. The girls were asked a series of questions, to which they either replied 'O', meaning yes, or 'X', meaning no.
-
Question 1. "Have you ever felt a generation difference between the members?"
Answer: OSoyeon:
"I think our generations are divided by the music or the artists we liked. I'm part of the
H.O.T
generation, but our dongsengs don't know them. They're the
TVXQ
generation."
Hyomin:
"There's a stamina difference. The unnis rest whenever they get the opportunity, while the dongsengs are busy running around or visiting other waiting rooms."
Question 2. "Were you ever hit on by male celebrities?"
Answer: OSoyeon:
"We don't ask each other about those kinds of things. My personality is very tomboyish so I have a lot of close male celebrity friends. People often misunderstand us to be dating."
Question 3. "Did you ever have a senior or junior you hated?"
Answer: OSoyeon:
"When we first debuted, other girl groups started telling us about a certain senior that didn't help out a lot and was just overall mean. Like the rumors, the senior acted negatively towards us."
Question 4. "Was the hardest part of the year dieting?"
Answer: XSoyeon:
"It's stressful worrying about what you're eating. You have to really try hard when you're dieting, so I weighted myself in the morning every day. It feels good and makes you feel like it's worth it."
Hyomin:
"I wasn't able to eat anything whenever we had to wear outfits that exposed our stomachs. No matter how skinny you are, your stomach sticks out when you're full. I could diet all I want, but I still can't eat before broadcast shows. That was really hard."
Question 5. "Are you proud of your singing talent, and do you feel that you're not lacking compared to other groups?"
Answer: -
Hyomin:
"We've never been told that we were a talented group, which is something we're most upset about. During our year-end party, we told each other that we'd work hard to become a T-ara that is acknowledged for talent next year. We'll reach good results if we all help each other, right?"
Question 6. "Have you honestly done plastic surgery?"
Answer: OHyomin:
"We won't say who fixed what and where, but for now, we'll say O. Society has become really appearance-oriented lately. Our job requires us to give joy and entertain a lot of people. It's impossible to do that if you're not pretty. There is obviously a part of us that want to be pretty, but because the public looks at our visual, I think it's possible to fix a few things as long as you're not greedy in order to live up to those visual expectations."
Source: Sports Chosun | allkpop
-----------------------------------------------------------------------------------------------------------------
ka8e fora pou leei kapoios TVXQ generation i feel so damn proud!!!! >.<
egw pisteuw oti exoun polu kales fwnes kai krima pou dn ts to anagnwrizoun...
oso gia ts plastikes, dn exw na sxoliasw kati.