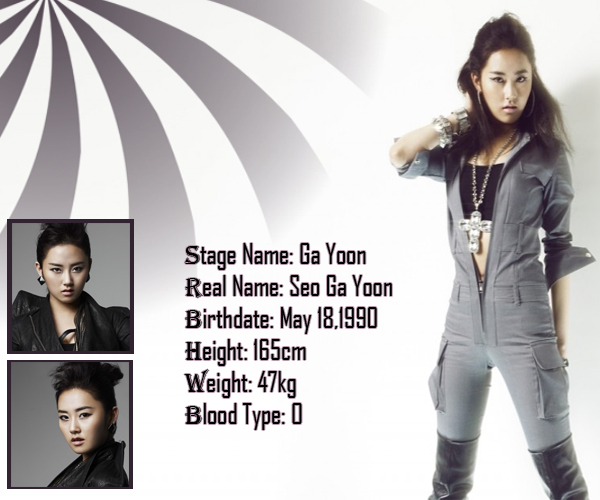 Group Position:
Lead Vocal
Nicknames:
Dodosick (Arrogant-"Sick") Gayoon, Neunggeuli (Sneaky) Gayoon (because of her facial expressions in some pictures), Gayoonit, Cube uljjang, Heophrodite, Gangnam Woman, Heo Force
Specialty:
Singing
Hobbies:
Watching movies, writing lyrics
Is a fan of:
Yangpa, Lee Hyori, Bae Youngjun
Education:
Dong Deok Female High School (graduated)
Debut:
in 4minute with the single "Hot Issue", 2009
Previous Works:
appeared in Mario's MV "I'm Yours", 2008

sang chours for MC Mong's "Ninth Cloud", 2008
- She loves elephants and she wants to ride one.
- She has awesome airport fashion.
- She has nice graduation pictures.
- She's watched Ninja Assassin
- She gets called Goddess Gayoon by some fans.
- She gets teased about her BB Cream.
- On an episode of Star Golden Bell, she was chosen to be the one the guys like most.
- She likes to sing with her hand across her neck or chest.
- She's self-conscious.
- She sang in the chorus of MC Mong's Ninth Cloud in 2008
- She had a solo song featuring CUBE trainee Han Ye Ji for the drama The Woman Who Still Wants To Marry's OST: One Two Three.
- She is a fan of Lee Hyori and Bae Yong Jun.
- She has somewhat sarcastic sense of humor.
- She has a milky complexion.
- Her favorite part of Hot Issue is her line "nan hangsang shawty star."
- She and T-ara's Jiyeon are friends (from predebut).
- She sang in the song and featured in the MV of "Love Is All Around" predebut with other labelmates.
- She thinks she is most attractive during dance practice/while she is sweating
- She got second place in SM Ent.'s 2005 9th Youth Singing competition
- She is the cleaner in the group
- She and Jiyoon were BFF since their trainee days. They call themselves "(the Singing) Ssangyoon. <- Double yoon)" HEAR THEM SING.
- She is in a love triangle with Jiyoon and Hyunah.
- She is featured in Mario's (also under CUBE Ent.) "I'm Yours" MV with Seulong from 2AM
credits:
soompi.com & asianfanatics.net & mochilicious.livejournal.com