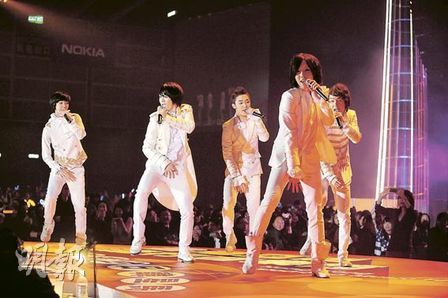 SINA Entertainment news, Beijing time 3/25 news: According to Hong Kong media reports, this year's "Hong Kong Asian Popular Music Program" held at Huizhan two nights ago (3/23) had members of famous groups from China, Hong Kong, Taiwan, Korea, Singapore, and Malaysia, as well as holding a singing and dancing competition for rising young artists. Representing Hong Kong was Chen Weiting but he did not have a strong performance, and was the first to be eliminated. He was quite disappointed, but conceded defeat.
China's representative wins two awards
Hong Kong's Chen Weiting, China's Wu Qiong, Taiwanese group SIGMA, Korean group The Boss, Singapore's Zheng Kewei, and Malaysian group Bunkface competed for Asia's New Superstar award, best stage performance, and best vocals. Although Chen Weiting had a home stage advantage, he still lost the battle. He and SIGMA were eliminated first, and even in the most promising New Superstar Award he also was defeated by quite a few points. Finally, Wu Qiong won the New Superstar Award and Best Vocals, and Best Stage Performance fell into the hands of The Boss.
Korean Group Wins Best Stage Performance
Chen Weiting was honestly disappointed, but conceded defeat. He said: "I always wanted to win Best Stage Prformance, this time I worked hard at my dance rehearsal, I forced myself to work really hard. Although I lost, I fully acknowledge defeat, as I can see that all the artist's performances are really complicated." He expressed that standing on the stage waiting for the results his frame of mind was very nervous, and unfortunately the final result was that he lost by several points to The Boss. Chen Weiting said: "I once again feel like a 17 year old joining as a new artist, at that time, I was also competing for Best Stage Performance." He was asked if he could have lost a few points because he didn't light the light bulbs on his clothes - might they have added to the dance and the overall effect? Chen Weiting laughed and said, "If setting off sparks is better, I originally planned to enter the final round and then turn on the lights, but no matter, I can still keep wearing this set of stage clothes.
Suju M receives the biggest welcome
Hong Kong representative Rong Zu'er performed an opening song, other artists included Taiwanese unit Lollipop F, Singapore's JJ Lin, Korea's Super Junior M, Malaysia's Fish Leong, and China's Zhou Bichang, among them the finally appearance of Super Junior M got the biggest welcome, the cheering of the spectators had no end.
Credits;
Source: Sina Entertainment News
Translations: Peijun@AstroMAFIA.com/LoveCpop
yayyy~