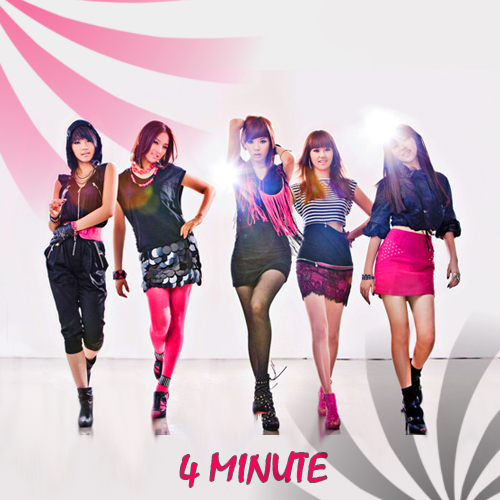 4minute
(Korean: 포미닛) is a South Korean girl group created by Cube Entertainment who have released various singles and EPs since their founding in 2009.
4Minute.
the other hidden meaning of the group's name - For (a) minute, which indicates that the members strive to perform to the best, every minute, every second."
4Minute was announced in
May 2007
, along with two of the group's members,
Kim Hyun Ah
and
Nam Ji Hyun
. Although Ji Hyun is known as the leader, many singing parts and centered dancing roles belong to HyunA (who is a former member of Wonder Girls) On June 11, 2009, the silhouette teaser video was released online, along with their official website. The remaining three members' identities were kept secret until June 12. On June 15, 2009, their debut single
"Hot Issue"
was released along with another teaser video and the profiles for each group member. Within
hours
of the song release, it quickly climbed onto top five within various digital music charts. 4minute had their debut performances on June 18–21 with "Hot Issue" and they won the digital music award
"Rookie Of The Month"
for June and August. 4minute won their first ever number one award on Inkigayo, on September 27 and on M!Countdown, on October 1.
In the end of August, 4Minute released a mini-album called
"For Muzik"
which was alongside their second single, "Muzik". Their third single is "What A Girl Wants", and was released not long after the release of their EP.
Each song they have released has focused on one member of the group.
"Hot Issue"
focused on
Hyuna
,
"Muzik"
focused on
Jiyoon
and "
What A Girl Wants"
focused on
Gayoon
.
Due to the popularity of the group, it was later announced by Cube Entertainment that Universal Music Group would be assisting 4minute with an international launch of their album.
They had their first solo concert in Japan on May 8, 2010. Cube Entertainment announced that the tickets to the concert had been sold out in a very short period of time. For their first solo concert in Japan they performed in front of 4000 people.
On April 23, 2010 a new repackaged album of 4minute was be sold in Taiwan adding in the solo debut song of Hyuna "Change" and their duet song with Amerie and as well as a bonus DVD of their concert in Taiwan.
4minute released a new mini-album entitled "Hit Your Heart" for their comeback on May 19, 2010. Along with this, they also released the first single from it, titled "HuH".

2009
Cyworld Digital Music Awards: Rookie of the Month (June) ("Hot Issue")

Korea's Cultural, Physical Education and Tourism Bureau: Rookie Music Award (August)

SBS: Power Rookie (August)

Golden Disk Awards: Samsung YEPP Rookie Award
2010
16th Korea Entertainment Arts Awards: Newcomer Award

2010 Asia Model Awards : Popular Artist Award
credit:
wikipedia