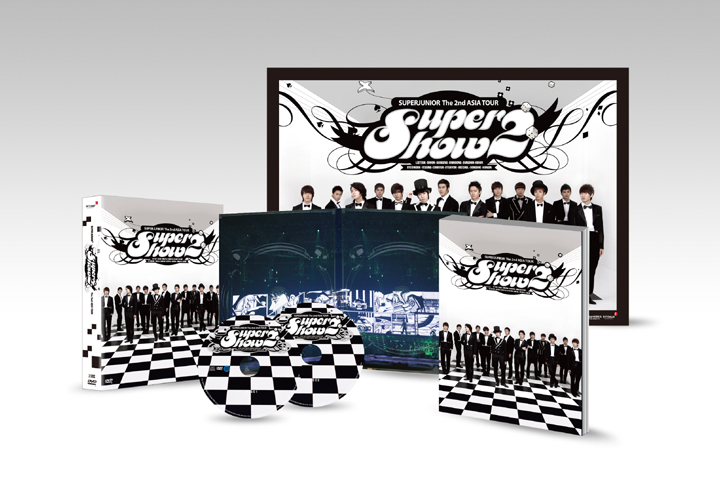 Reported before that SM Entertainment will release a Super Junior 2nd Asian Tour: Super Show 2 DVD which will be release on the 29th of October. Fans were already excited to know how much will be the price and seems like the wait is over as the informations about the said DVD has finally been release.
Here are the details you might want to know about the item.
Price 29,700 won
Price 28,800 won (3% discount)
Gift poster: [DVD] Super Junior 2nd Asian Tour: Super Show 2
Release Date: October 29, 2010
Book Sale: (Oct. 29 Coming Soon)
Super Junior The 2nd Asia Tour "Super Show 2″ October 29 DVD release!
Plus DVD Benefits: The concert making + Special color photo book! + 1 kind of posters!
Asia best Super Star, Super Junior The 2nd Asia Tour "Super Show 2″
2 DVDs + special color photo book (82p) + only 1 kind of posters!
- The opening of Super Junior Asia Tour of 2009 in July, Seoul Olympic Gymnastics Stadium live concert DVD (177 minutes performance)
Spectacular stage production, a fantastic live performance! Songs from 3rd album "A man in love","U", "Don't Don", "Twins" and a variety of remixes hit stage production!
"Sorry, Sorry" Remix Version and Answer version, 'Superjunior K.R.Y', 'Superjunior M',
'Superjunior T' Super Junior unit etc.
Aside from their group songs, the solo songs of each member will be also added on the dvd which mainly are Sungmin's "Baby Baby", Heechul "魂 [Horn]", Donghae: "Beautiful", Yesung "Chenyom", Ryeowook "Insomnia", Kyuhyun "7 years of love", Leeteuk "Honey", Siwon "Who Am I" and also Kangin "Doc and dance" and "Run To You"
The DVD will include Concert Making Film, Concert rehearsal, dressing room, include a personal interview of all members. There will also be a special 82 page colored Photo Book of the concert.
Credit: yes24
English Translated: mook_yeye @ sujudaily.com