"If a tree falls in a forest and no one is around, does it make a sound?"
While this philosophical riddle supplies differing responses, a particular fall shall always deliver a consistent reaction: when a celebrity makes an epic tumble, the world will definitely hear.
To recollect, SISTAR member Bora face-planted on the stage of the Let's Start Sharing Concert on the 28th. Videos and photos immediately flooded the internet, and no amount of sympathy could stem the viral tide. A clip of the fall even made its way onto a segment of the G4 program 'Attack of the Show'.
On the evening of September 1st, the show hosts cheekily made bets to see which of the SISTAR members 'eats it'. They assure the girls at the end of the highlight that despite the embarrassment, they at least acquired international publicity.
Bora fractured her thumb after the fall, and the girls courageously completed their performance that same night.
Credits:
www.allkpop.com
_________________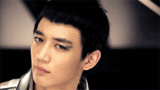 Once a SHINEE always shininggggggg!!!!!