Though there was no news of it beforehand, 2AM's Seulong seems to be part of an upcoming drama, along with actress Lee Min Jung.

On his official twitter, Seulong uploaded a picture with the pretty actress, with a message stating, "Today is the last filming for the drama… Thank you to Min Jung nuna who helped me a lot! Our faces both look swollen because it is the morning."

Netizens made comments such as, "Both of you look really good.", "The two of you look meant for each other.", and "I am anticipated for the drama."

The drama is called Dosirak and will be a miniseries. It will flip back and forth between the stories of a young and old couple.
_________________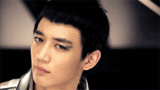 Once a SHINEE always shininggggggg!!!!!