Changmin was mistaken for SHINee's Onew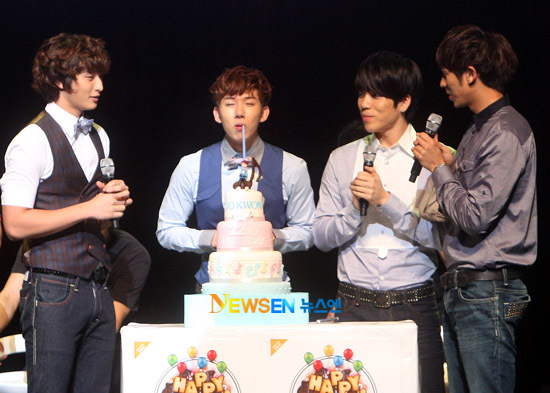 2AM Changmin revealed "As I have been doing Homme activities, I realized the importance of 2AM".
On the 29th, the 2AM members participated in 'Kwon's Day', Jo Kwon's birthday fan meeting.
On
this day 2AM went on stage for a '2AM Q&A' time. When one fan asked
"Which member do you think you would feel okay with if they left for
another group?", Seulong laughed and said "Homme's Changmin". Changmin
is currently actively promoting with 8eight's Lee Hyun for their project
group 'Homme', with their track "Still Eating Well" in first rank.
Changmin expressed sadness and said "As I've been doing promotions for Homme, I realized the importance of 2AM".
The
members who have come all this way longer than anyone else are not only
important, but there is also a funnier reason. "When we go into
broadcast stations or anywhere else together, we can get in with ease.
However when I promote with Homme, it's more difficult getting into
those broadcast stations."
"Not long ago we went into a
broadcasting station and when we were asked who we were, we answered
'We're Homme', but they didn't recognize us. Only after we said 'Homme' 3
times, that's when they said "Ah, Onew?" and let us in." He continued,
"Jung Sun Hee nuna advised me to wear sunglasses and look at everyone at
an angle."
In addition Changmin, Seulong and Jokwon said "I
think Jinwoon will do good in CN Blue or FT Island", "He's always liked
instruments and always practices at night, I think if he joins them
he'll do good. However we're not saying he should join them permanently.
Maybe about 4 years? We're thinking of what it'd be like if he came
back after letting out all of his grudges."
CREDITS : NEWSEN (SOURCE) ; jennying@2ONEDAY.COM (TRANS)